Check out what's coming next!
Thursday August 18th, 2022
First day of school.
Monday September 5th, 2022
No school in observance of Labor day.
Saturday September 24th, 2022
At 10:00am, autumn inspired watercolor painting and story time event at the library.
New Reviews
See what's new at the library and read a review of some our our newest books.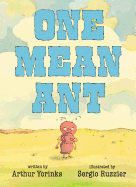 One Mean Ant by Arthur Yorinks
Was there ever an ant as mean as this mean ant? Not likely. This ant is so mean that leaves fall off trees when he walks by. This ant is so mean that grapes shrivel when he looks at them. But when this mean ant finds himself lost in the desert and meets a fly that defies explanation…well, nothing is the same again.
Firekeeper's Daughter by Angeline Boulley
 "A rare and mesmerizing work that blends the power of a vibrant tradition with the aches and energy of today's America."
– Francisco X. Stork, author of Marcelo in the Real World and Illegal
Tomorrow and Tomorrow and Tomorrow by Gabrielle Zevin
"Is there such a thing as the Great American Gamer Novel? Because if not, I believe Gabrielle Zevin just invented it. She has crafted a brilliant story about life's most challenging puzzles: friendship, family, love, loss. By turns funny, poignant, wistful, and occasionally devastating, this book absolutely pwned me– in the very best way." 
-Nathan Hill, author of The Nix